We did say love. Not a word we throw around loosely.
Why the affection?
In this jam-packed world of web-builders, designers, and so-called "SEO experts"; it is difficult to find a digital marketing company offering such exquisite, high octane services as those offered at SEO Skyrocket.
It's digital sexiness.
Let's take a walk through what they have to offer, shall we? You can see for yourself.
1. Branding
What is your story?
With all the companies fighting for attention in business, you don't want to just blend in. You want to stand out.
How do you do that?
You tell a story. A story in which your customer (not you) is the hero.
These guys are master storytellers and can help you put together a compelling narrative that will grab your audience's attention and lead them to your doorstep.
Who is your target?
Even though you think everyone needs what you have to offer and you are eager to offer your services or products to the whole ginormous universe – you need help lasering your efforts to your dream client.
According to AL Res in "The 22 Immutable Laws of Branding: How to Build a Product or Service into a World-Class Brand", the first law of branding is called "the law of expansion" which states…
"The power of a brand is inversely proportional to its scope. By trying to be all things to all people, you move closer to being nothing to no-one by undermining the power of the brand."
Aim small, miss small.
They can help you build a "ghost bio". Who are they? What do they love? Where do they live? Age? Height?
By using an extensive questionnaire and even on-site consulting and planning, they will help make sure you don't miss with your efforts.
2.

   

Web Design.
Let me illustrate this aspect of their services by telling you a short story…
It was a typical Saturday evening. My wife and I decided to go out to eat.
Most of the time we can't decide where to go. I am pretty decisive – my wife is not. "Whatever you wanna do" began to be pitched back and forth between us with no end in sight.
Been there? Feel my pain?
We chose a little place we've been to multiple times but with one major difference.
The decor was different.
The place was all moved around funny. They even ditched the candles. And wouldn't you know it – my wife didn't "like" what she ordered.
Did it matter she had had that same plate before? Nope. Did it matter we had been there tons of times? Not at all. The surroundings and the design of the place made her taste buds jump the track.
Just a simple reminder of what I have learned and I have seen with so many businesses
Aesthetics Matter! – In Websites, It Matters even more
– You got a great product, but no one wants to "taste" it.
– Bounce rates are so high your site might as well be made of rubber (meaning people come but quickly leave).
You've been trying to figure out why??
Your website is ugly, outdated, confusing and that reality is costing you much more than building a new one would.
SEO Skyrocket specializes in website makeovers and do-overs.
They don't just make your site look good on one device but ALL devices – mobile most importantly.
Brilliant color scheme, fonts, high-resolution images, user-friendly sitemap – things you may have not even knew you needed – they can handle it.
3.

 

Copywriting
In our experience of surveying countless thousands of websites here is what we discovered is almost always the case…
A website's strength is either in design or copy but rarely both.
Many times its flashy nothingness. A pretty wasteland devoid of content that attracts and converts your visitors.
80% of your visitors won't even make it past your headline. Does yours entice? Does it draw them toward a call to action? Don't let this prime piece of webpage real estate go to waste.
Let me show you what I mean. Here is one of their sites done for a local plumbing plus service company: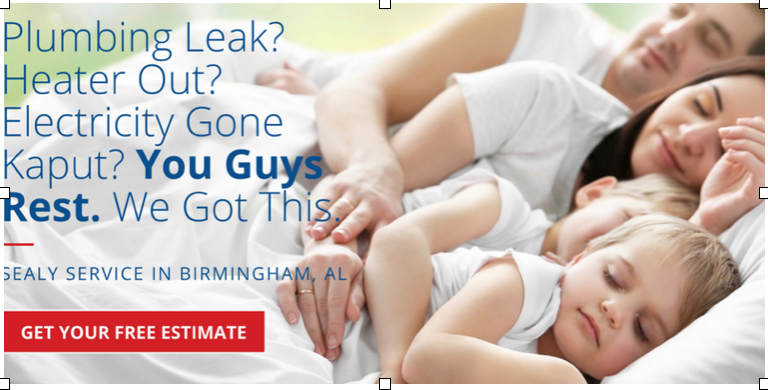 Notice the headline says it all and says it well. Really there is no need to even navigate the rest of the site. Need rest? Call us.
Now let's look at the headline of a major competitor: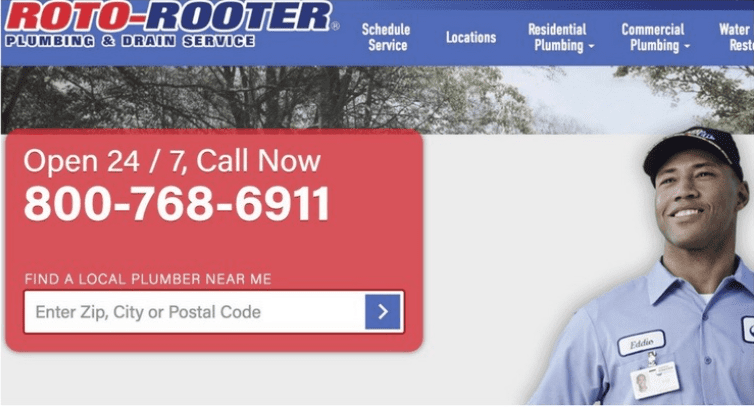 Hi. We are open and here is our number?? Amazingly we have found that a large number of websites do this.
Never assume your visitors trust you and understand what you have to offer. You got less than 3 seconds in your headline to keep them on your site. Make it count.
How about your "About page". Is it all about you? Guess what?
No one cares.
People care about themselves. Sorry but its true. Everything on your site should, of course, communicate what your company does, but it should primarily be spoken in "Benefese" – the language of benefits central to the customer's interests.
SEO Skyrocket won't let you make these fundamental mistakes. They employ Master-Level Copywriters who understand that it is the words of your website that remain central to persuading your future clients/customers and bringing them right to your doorstep.
Your site should:
…jolt them from their boring lives and appeal to their desires.
…engage them in a fresh way (not with same ole boring mumbo-jumbo).
…reach the heart and not just the head.
…Give them something to do ("I love it, now what?").
Does it? If you had already called these guys it would.
4.

 

SEO
1,218,480,500.
Thats about how many websites are live on the internet right now (and counting). You hope that by putting yours up, you are gonna get all this attention?
How cute.
Reality is no one will even know you exist. You will be a needle in a haystack.
But you already know this. "SEO gurus" have saturated the web telling you that this is an important feature not to be neglected. Problem is, many of them claim to be Google magicians. They promise an ocean of traffic and deliver a thimble.
The SEO Skyrocket team understands that Google can't be manipulated. Real SEO helps Google understand the content of your website. It's leads, steers, guides, and assists Google. It doesn't seduce them. They can help you optimize your website to the highest level based on the content it carries.
No tricks. No smoke and mirrors.
SEO as a service can often be nebulous. Most people don't really understand exactly what they are paying for. The Skyrocket team will walk you thru their research and offer the tools to be able to provide data to support what they've done and why.
Results are not promised as a result of SEO alone. It's about your content. They can also help you to develop a content strategy that will increase your rankings even further and even provide that content should you need it.
Up to 60% of your website traffic comes from search engines. The businesses that get found get the profit. Period.
5.

 

Inbound Marketing
How do you market yourself? How can you capture more leads and create more "come-back" customers?
SEO Skyrocket will walk you through the whole process.
a. They help you find your unique selling position.
Let's face the facts – you are likely NOT the only person offering what you are offering. So you have to ask yourself, "Why choose me?". It's called your USP (Unique Selling Position). It is what sets you apart from your competitors.
As we mentioned above, during initial consultations and strategy meetings, SEO Skyrocket can help you find your voice and establish a company brand and featured benefit.
b. They help you create demand
Now that you know who "they" are and you know who "you" are, you can start to gain awareness. Use you a customized Skyrocket blogging strategy  and expert bloggers to start creating content that will
Educate
Entertain &
Engage
…you future customers.
c. Show you how to capture leads
Imagine you are going fishing. You know what you want to catch, so now what tactic is best for that specific fish (worm, topwater, trout line, etc.)?
What can you offer at this stage that they would find valuable?
Skyrocket can help you decide what is best for you.
Videos
Blogging
How-To eBook Checklist / Guide Data sheets
White Papers
Buyers Guide for your Product – you get the idea.
*Social Media Specialists are also a part of their team to help you optimize your social platforms.
c. Show you how to nurture Leads.
A lead has subscribed. They "opted in". They are following you on social media perhaps. Skyrocket can show you how to continue to provide them with engaging & educational content.
They will even set up ways you can converse with them as needed (email, surveys, etc.).
Conclusion
Of all the digital marketing companies we have surveyed there is nothing like these guys out there that offer all these features under one roof.
With a 99% retention rate with their customers – they let their clients do all the talking.